Tested on Windows 8.1 & 7 & XP. Working!
Leave a REPLY IF YOU APPRICIATE my works !
All Files Added 10 % Recovery. If you receive error when extracting, use winrar to repair it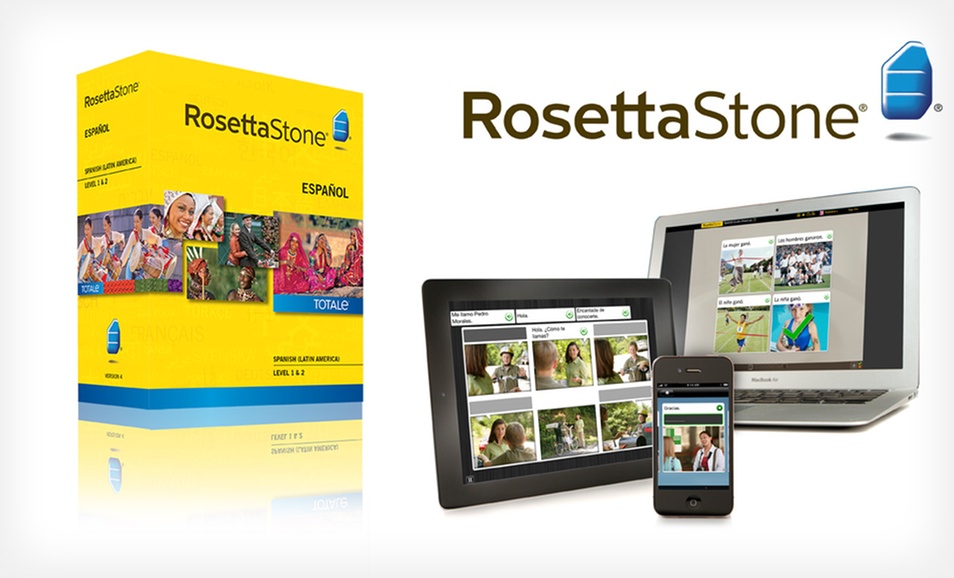 Rosetta Stone TOTALe v 4.1.15
Award-winning Software:
Learn a language naturally with Dynamic Immersion?.
The Rosetta Stone language program aims to make learning easier and more effective by scrapping dense explanations in favor of a visual teaching style featuring pictures, audio and text.
Created by Fairfield Language Technologies in 1992, Rosetta Stone has been adopted by West Point, NASA and over 10,000 schools, according to the company.
The product's teaching method attempts to emulate the experience of a native-born speaker by immersing you in one of 29 languages using photos, spoken phrases and written words.
System Requirements
• Windows 8/7/Vista/XP (32/64 bit)
• Mac (Intel based only): Leopard, Snow Leopard, or Lion (OS X 10.5 or higher)
• Internet Explorer 7, Firefox 3, Safari 3, Chrome 8 or greater
• Adobe Flash Player version 10.1 or greater
• At least 1 GB RAM
• 1 GHz or faster processor speed
• 1024 x 768 display resolution
• High-Speed Internet connection (at least 768Kbps)
• USB headset with microphone (not included)
New Features from Rosetta Stone v3 to Rosetta Stone v4 TOTALe:
• Updated vocabulary
• Updated photos
• Live online lessons (Tutoring) from well-paid native speakers
• Brand new games and an online community
• iPhone/iPod Touch add-on to practice on the go
• Improved compatibility with new operating systems
• Updated language packs to fix language errors
• Miscellaneous fixes/updates
• New Interface
Do NOT ask for any v 4.x languages. They aren't available, yet.
Contents
Languages Are For RS v3-v4
Arabic Level 1, 2, 3 + Audio Companions
Chinese (Manda rin) Level 1, 2, 3 + Audio Companions
Dutch - Level 1, 2, 3
English (American) - Level 1, 2, 3, 4, 5 + Audio Companions
English (British) - Level 1, 2, 3, 4, 5 + Audio Companions
Filipinio (Tagalog) - Level 1, 2 + Audio Companions
French - Level 1, 2, 3, 4, 5 + Audio Companions Level 1;2;3
Latin - Level 1, 2, 3
German - Level 1, 2, 3, 4, 5 + Audio Companions
Greek - Level 1, 2, 3 + Audio Companions
Hebrew - Level 1, 2,3
Hindi - Level 1, 2, 3 + Audio Companions
Irish - Level 1, 2, 3 + Audio Companions
Italian - Level 1, 2, 3, 4, 5 + Audio Companions Level 1
Japanese - Level 1, 2, 3 + Audio Companions
Korean - Level 1, 2, 3 + Audio Companions
Persian (Fasi) - Level 1, 2, 3 + Audio Companions
Polish - Level 1, 2, 3 + Audio Companions
Portuguese (Brazil) - Level 1, 2, 3 + Audio Companions
Russian - Level 1, 2, 3
Spanish (Latin America) - Level 1, 2, 3, 4, 5 + Audio Companions Level 1;2;3
Spanish (Spain) - Level 1, 2, 3, 4, 5 + Audio Companions
Swedish - Level 1, 2, 3
Turkish - Level 1, 2, 3
Old Languages (Extract, Mount ISO file & run setup.exe file to install, only for Windows User)
Pashto - Level 1
Vietnamese - Level 1
Indonesian - Level 1
Swahili - Level 1
Danish - Level 1
Thai - Level 1